Today's Tutorial involves very simple supplies.
 
Three Metal Tins from the Dollar Tree, 3 for $1.00 (in Wedding Section)
 
Next pick out your papers, I am using a Halloween Theme...



Yeah, I have a Cricut Now!! I am cutting my circles out with this. I used the Simply Sweet Cartridge and the Large Circle is cut with the 2" setting, the Smaller circle with a 1 1/4" setting and the Letters are cut with a 1" setting.
If you
don't have a cutter just cut 3 circles to fit inside the lid. (You can take the plastic insert out and use as guide, just cut it a little smaller to fit inside your metal lid.) Then cut 3 smaller circles out the size you choose.

Then 3 letters for the word Boo.

I have also used these for Christmas spelling, Joy, Merry Christmas, Kids names, Love, Hope, etc…

Now you will have everything cut out and ready for assembling.
Once you have the paper cut, take out the plastic insert in the lid and clean off any smudges.
These pop out really easily so I take a lil' bit of glue adhesive and place a dot in the 12, 3, 6 and 9 position on the inside of the metal lid and plastic to hold into place.
Pop plastic insert back into metal lid and
push
hard.
You will hear a pop when it is in properly and let the glue dry for just a bit.
Then take your paper and adhere all layers together, large first, smaller circle second and letter on top.

All assembled and ready for the Tins.
Then you can place another small bit of adhesive onto your paper corners in the 12, 3, 6 and 9 position and pop into your lid.
Secure lid to box and you're done.
 
I added a small bow on top for embellishment and attached mine together with a dot of hot glue so .they will stay in place and not roll everywhere!
 This project cost: $1.00 for tins, approx. Ten Cents in Paper
Here is the one I did from last year that I cut out by hand.
See it's just as good, just takes a little while longer.
The letters were printed on my computer on a white sheet of paper and cut out into circles.
I then painted the white with a marker and embellished with glitter. You could use letter rub- ons, stickers or hand write your letters yourself.
I also added a pumpkin inside an extra lid to the top.
Happy Halloween!! All sparkled up!
Blessings, from Denise...
Get over quick to Strictly Homemade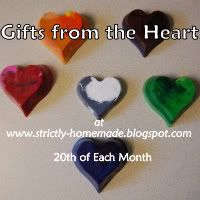 for a wonderful
Gifts from the Heart Party and CUTE Giveaway.
Head over to Life as Lori
check out the great
CSN 65.00 Give-away
and join her blog!
Also,
Somewhat Simple
for many more ideas. Great
Simply Camo
Giveaway!
Head over to
Pink Dandy
for lots of Great Sunday Inspirations